Boston Party Rental has been acquired by BC Tent & Awning, New England's premier tent rental company
In February 2017, BC Tent & Awning had the pleasure of acquiring Boston Party Rental. Both companies have a long history of providing exceptional Tent and Party Rental services to customers in the Greater Boston area. Boston Party Rental was started by the Harris family in Dorchester in 1959 as a franchise equipment rental business before becoming Rent-All of Boston in 1964. BC Tent was founded by CEO Robert (Bob) Costa in 1980 with one tent in his father's garage. Since then, the company has expanded to include a half-million square feet of tents and twenty-five full-time employees.
Bob and his team are honored to welcome Boston Party Rental customers into the BC Tent family. The purchase combines two of the most reputable and long-established businesses in the Greater Boston tent rental market. As Bob Costa said at the sale, "There is great synergy between us, and we look forward to building upon the great work of Peter Harris and Boston Party Rental."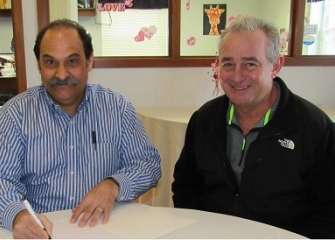 B.C. Tent & Awning Company, established in 1980, offers the area's largest inventory of rental tents of all sizes, in addition to custom awnings, canopies, tables, chairs, lighting and dance floor setups. Wedding planners, golf program organizers, business directors, caterers, and colleges and universities are among the company's client base.
B.C. Tent helps plan and manage each event for clients, offering start-to-stop programs. The company has been featured in many magazines and newspapers and is a 2016 winner of "Best Wedding Rentals" by Boston A List. The company is located at 25 Bodwell St., Avon. Bob Costa serves as the company's President and Chief Executive Officer.